Supporting Nursing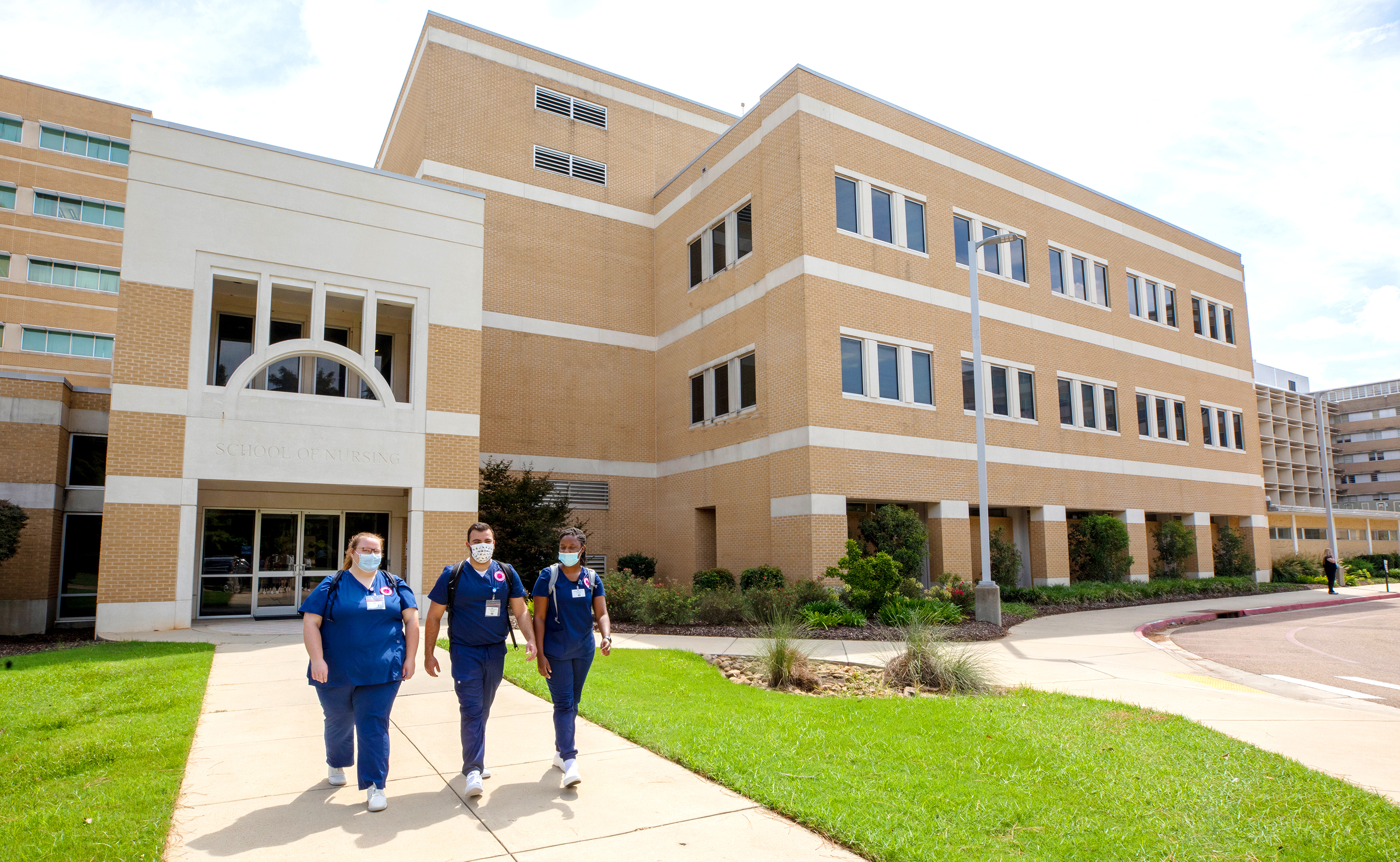 Nursing students (from left) Lillie Jones, Ismaeel Baig and Kierra Brown chat as they leave the School of Nursing building on the University of Mississippi Medical Center campus in Jackson. Photo by Jay Ferchaud/UMMC
A $1 million planned gift from retired nurse Patricia Dyre Kimble of Friday Harbor, Washington, will benefit the School of Nursing at the University of Mississippi Medical Center (UMMC) while honoring her in perpetuity.
The gift will establish the Patricia Dyre Kimble Endowed Chair in Nursing and will supplement the salary of an outstanding nursing school professor who is selected to hold the chair.
Kimble said she hopes her gift will help students achieve their educational and professional goals.
"My years at UMMC were instrumental in shaping my life. If it had not been for the excellent faculty, the opportunities available through the program, such as the availability of mental health traineeships, and the wise counsel of persons like Dr. Art Dohlstrom, I would not have been able to continue on to graduate school at the University of Washington, and to my future," said Kimble, who spent most of her formative years in Grenada, Mississippi.
"I'm sure there are others in Mississippi with similar backgrounds to mine who could benefit, as I did, from a solid education, an opportunity toward a better life and a different understanding of the people who make up our country."
In 2009, Kimble — the 1965 class president of the School of Nursing — and her now-late husband Rees "Skip" Kimble, established the Patricia Dyre Kimble Scholarship in Nursing. A portion of her recent estate gift will supplement this student scholarship fund as well as the School of Nursing Class of 1965 Fund.
"We wanted to make sure a student who gets the scholarship would have enough money to stay in school," Kimble said when the scholarship was established. "We also thought that it might be nice to be able to eat when you're a student, and we wanted to help with living expenses."
Dr. Julie Sanford, dean of the School of Nursing at UMMC, expressed her gratitude.
"The School of Nursing is grateful to Patricia Dyre Kimble for her generosity and her devotion to her alma mater," said Sanford. "Ms. Kimble is a member of the 1965 class, which includes active alumni supporting the students and school. That this gift is from an alumna who has dedicated her career to caring for others and their mental health makes it even more meaningful."
As a student, Kimble worked a psychiatric rotation at the Mississippi State Hospital and soon found herself fascinated by psychiatric nursing. Learning that financial aid was available for a graduate program in psychiatric nursing at the University of Washington, she relocated after graduating from UMMC and earned a master's degree.
Kimble then earned her advanced registered nurse practitioner certification and enjoyed a 22-year career as a psychiatric care nurse and mental health clinical specialist with Community Psychiatric Clinic, which was then one of many mental health centers in the Seattle area. She also spent five years in private practice.
During her career, Kimble also served as a consultant for Columbia Lutheran Home, a 5-star skilled nursing facility for short-term transitional care, rehabilitation and long-term elder care.
Kimble retired in 1995 as did her husband from Boeing, and the couple moved to San Juan Island in the Pacific Northwest, near the border of British Columbia.
Since then, Kimble has worked as a volunteer with a local wildlife rehabilitation center and as a ticket office volunteer for her community theatre. She also plans and leads walks for the Friday Walking Group on San Juan Island and enjoys gardening and reading, including the work of Ole Miss alumnus John Grisham.
To support the University of Mississippi Medical Center, visit http://www.umc.edu/givenow/ or contact Jane Harkins, planned giving officer, at 601-984-4468 or [email protected].