Supporting Healthcare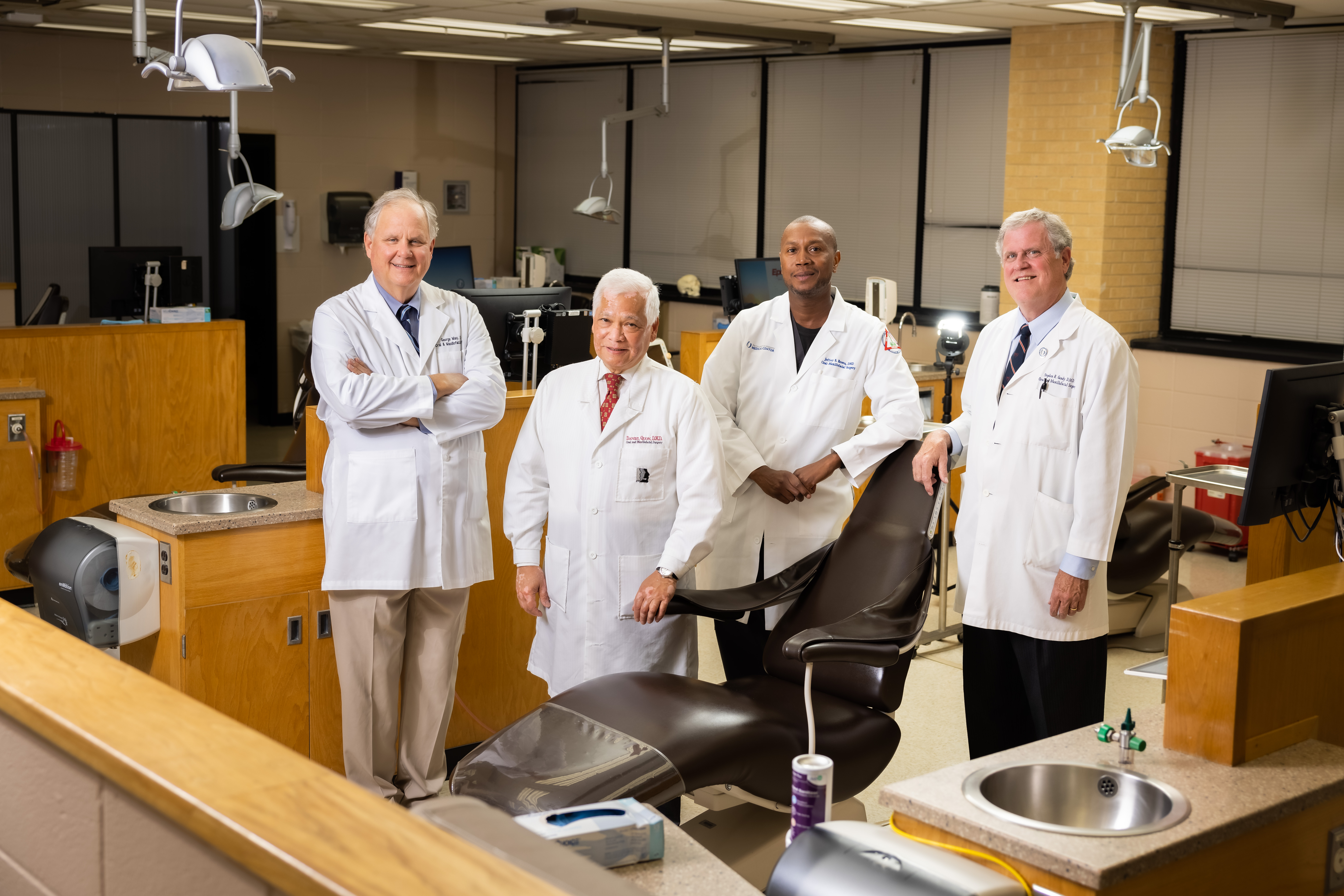 A new development fund, the Outstanding Faculty Award, honors oral surgeons and SOD graduates, from left, Dr. George May, Dr. Daniel Quon, Dr. Jeffrey Brown and Dr. Stephen Gandy.
When the School of Dentistry at the University of Mississippi Medical Center opened in 1975, founding faculty and the very first students who walked its halls set the expectations for the future of dentistry in the state.
Today, a group of esteemed faculty and prominent community practitioners are supporting and promoting the state's sole dental school through the creation of four named developments funds. Each honoree has designated an area of need that will be the focus of their fund.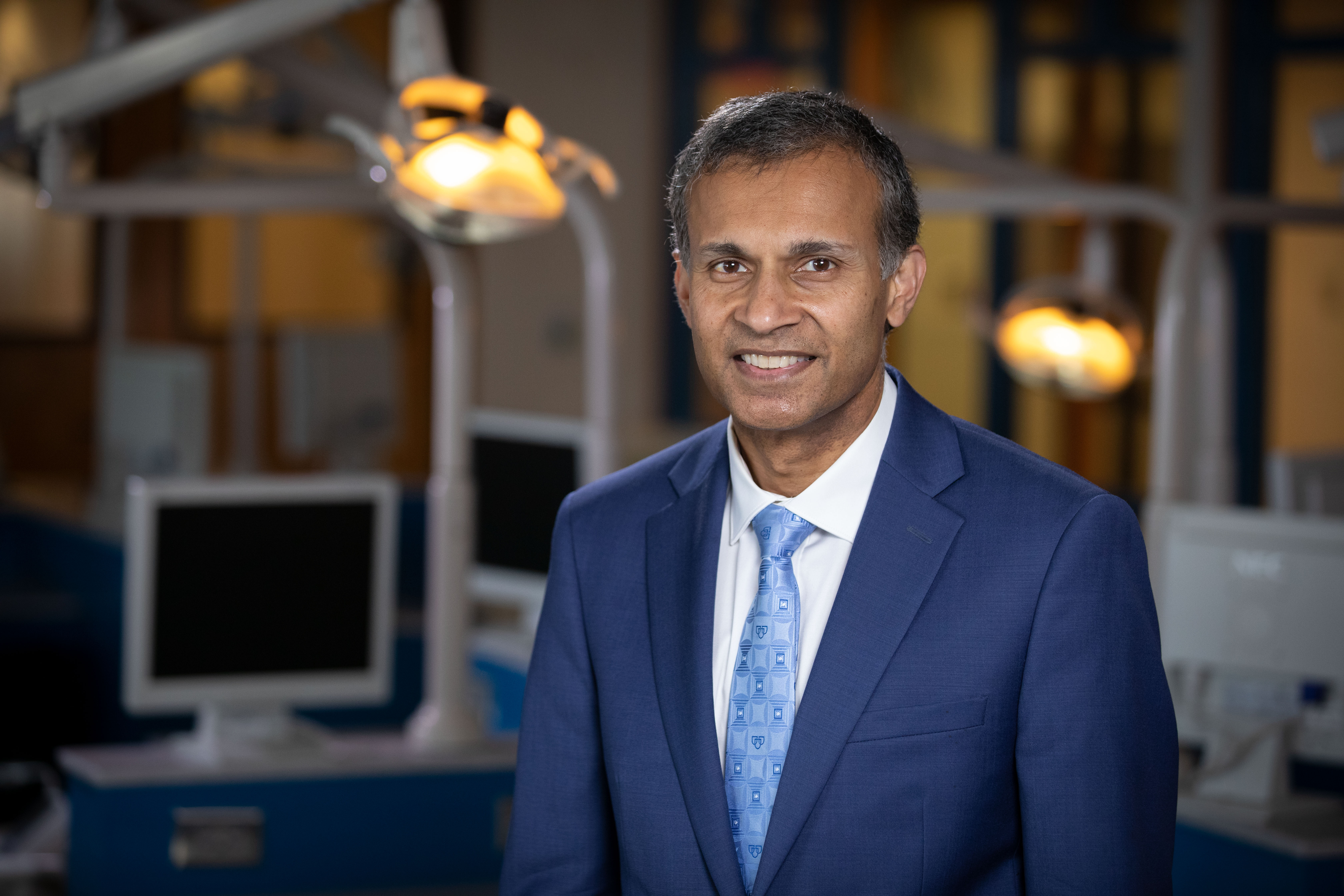 "Here are seven people who are highly admired, highly respected, and were gracious enough to say they'd be willing to have their names associated with these funds," said Dr. Sreenivas Koka, dean of the School of Dentistry and professor of care planning and restorative sciences.
"They aren't just putting their names on a fund. They are supporting initiatives that really matter, and that they care about deeply."
Together, the honorees are building a brighter future for the school. Two of them, Dr. John B. Smith and Dr. Daniel Quon, are members of that first graduating class and together received their degrees in 1979.
What the four funds have in common is their focus on students, Koka said.
"All of them will be used to improve something about the student experience, whether that's scholarships, a fund to assist patients they work with, diversity and inclusion, or a faculty award," he said. "The honorees want to make sure this improves the student experience."
The funds and those they honor are: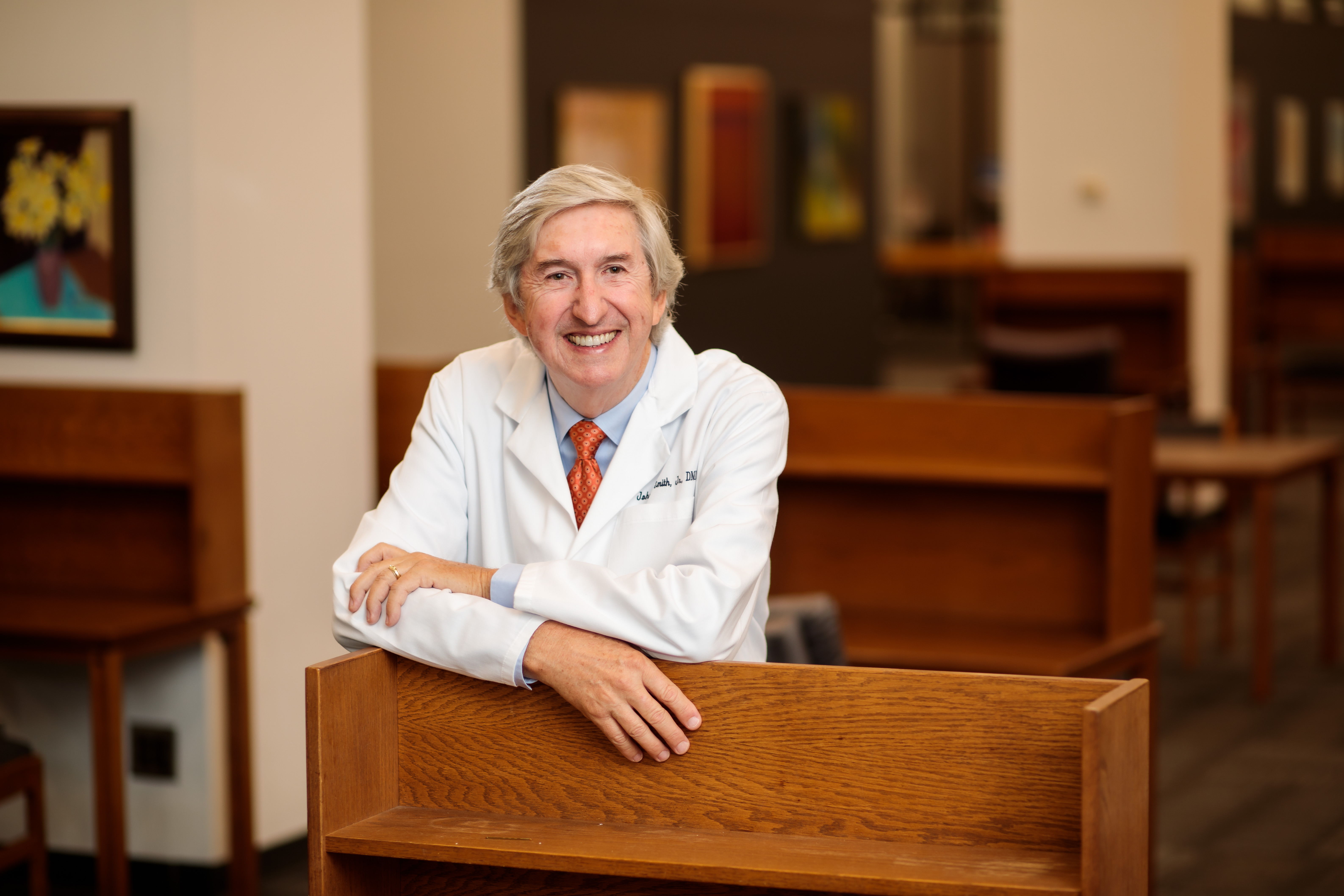 The John B. Smith, DMD Scholarship Fund will provide academic scholarships to attract the best students to become future dentists.
Smith, a second-level dean and associate professor in the Department of Care Planning and Restorative Sciences, is the only current full-time faculty from the founding class. He began his tenure in 2012 after selling his longtime family practice and joining the faculty as associate professor.
The new development fund can play a role not just in bringing stellar students to campus, but in encouraging them to practice in Mississippi, he said.
"What I've noticed about the admissions process since 2014 is that we have so many good students that we want to recruit, but so do other schools, "Smith said. "The top students are accepted at multiple schools, but we don't have the funding and scholarships available to keep them. They want to come here, but some of the other schools are offering scholarships that we can't."
"The more dentists we can train here at our school, the more likelihood that they will stay in Mississippi."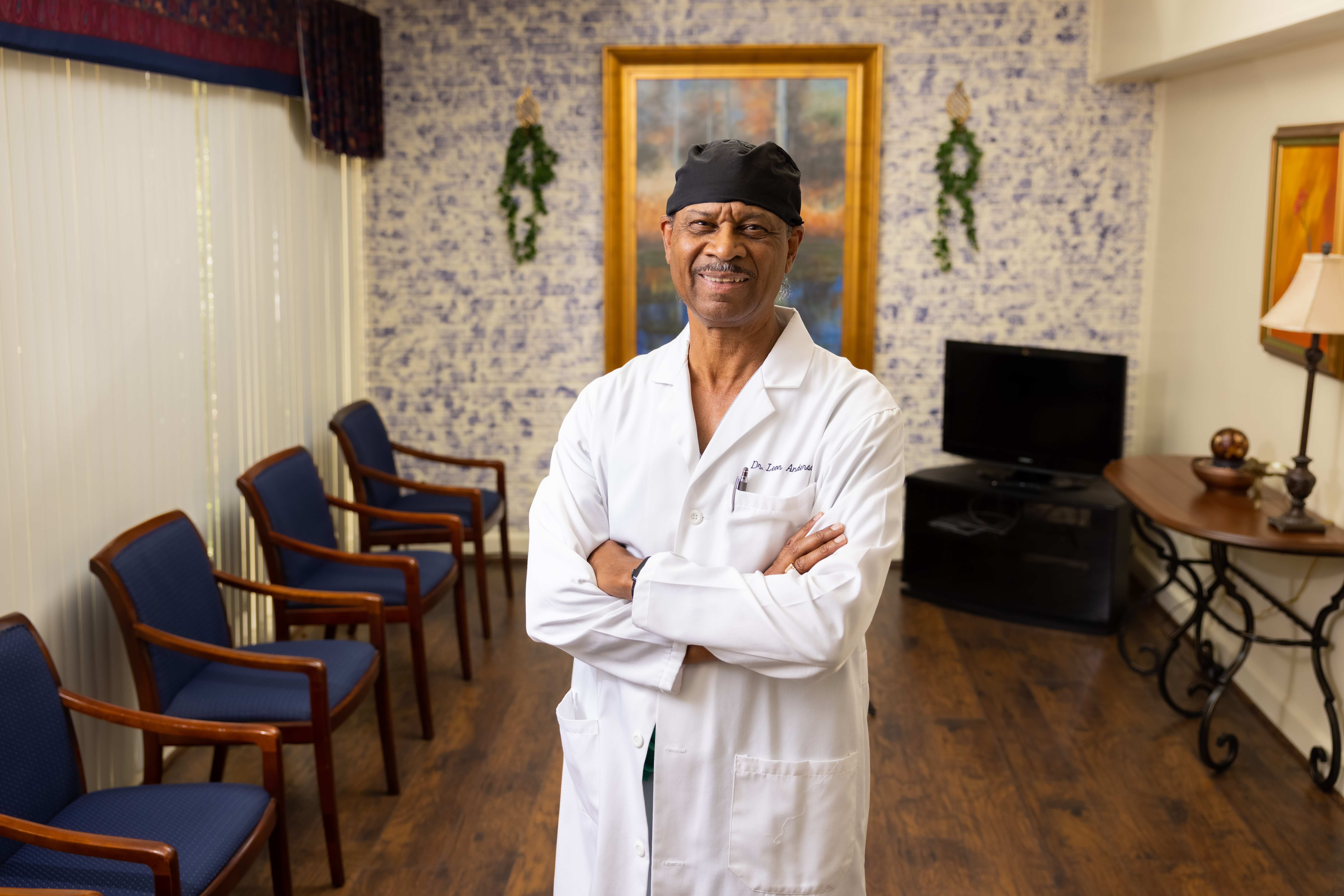 The Leon Anderson Jr., DMD Diversity and Inclusion Fund will help make it possible for more underrepresented and disadvantaged students to earn their dental degrees and practice in Mississippi.
Anderson cares for patients in his private practice, Anderson Dental LLC in Jackson. After graduation from the dental school in 1985, he joined the Department of Care Planning and Restorative Sciences as assistant director of the general practice residency program.
He served UMMC as director of the Division of Multicultural Affairs in 1989-2002 and was chief of dental services at the Veterans Affairs Medical Center in Jackson from 2005 to 2015.
He has a simple message for alumni and friends of the School of Dentistry: Please support the fund.
"We need your help in increasing the number of underrepresented students and disadvantaged students' who remain in Mississippi to practice after earning their degrees, Anderson said. "There are great people who live in this state, want to serve this state and are committed to staying in state. We need our students to stay here."
Many pockets of communities throughout the state have no dentists, Anderson said. "We want to recruit people who will live and serve in those areas."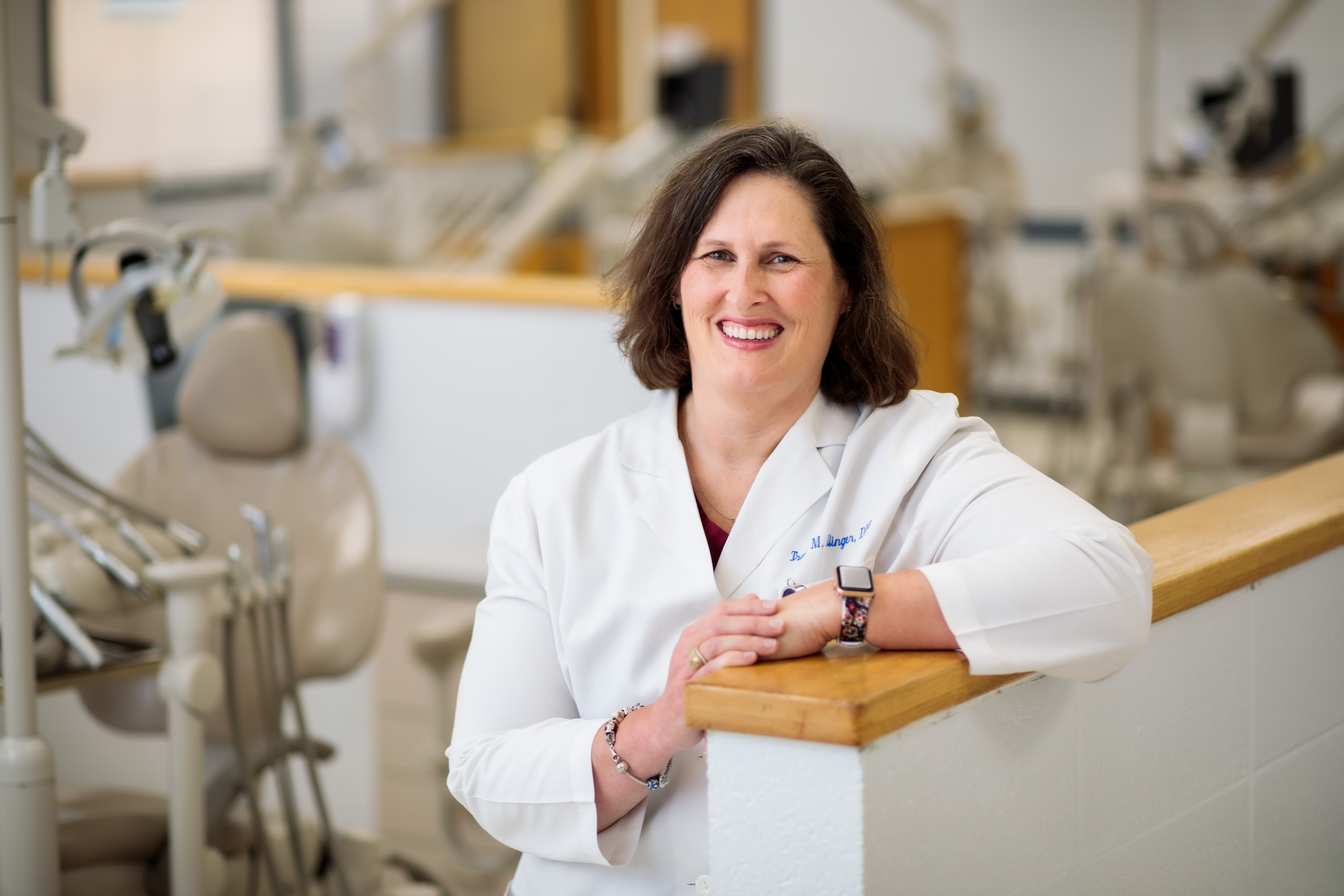 The Tracy M. Dellinger, DDS Patient Assistance Fund will provide billing assistance for low-income and underserved patients. It also will benefit dental and dental hygiene students who need vital hands-on training.
Dellinger, a professor and chair in the Department of Care Planning and Restorative Sciences for the past five years, previously led the dental residency program. She graduated from the University of Texas at Houston School of Dentistry, performed a one-year general dentistry residency at UMMC's School of Dentistry in July 1996, followed by a dental research fellowship, and never left.
She believes creation of the fund can make a real difference in patients getting the care they need, and in recruiting and training students to treat them.
"My hope is that alumni will be very supportive of the fund," Dellinger said. "They were part of an educational system where they were dependent on support, and they also recognize the financial constraints of the patients they treated while they were in school and the problems they had with access to care."
The Outstanding Faculty Award in recognition of Dr. Jeffrey Brown, Dr. Stephen Gandy, Dr. George May and Dr. Daniel Quon goes annually to a full-time faculty member chosen by the D4 dental class as the most influential teacher over the course of the DMD program.
May, Quon and Brown are oral surgeons practicing in the Jackson metro area who also are part-time clinical faculty in the Department of Oral-Maxillofacial Surgery and Pathology. Gandy retired from his private practice five years ago but remains a part-time clinical faculty member.
A 2001 graduate of the school, Brown is vice president and partner with Oral and Maxillofacial Surgery Associates in Flowood and Madison. He also served as an associate professor and program director in the Department of Oral-Maxillofacial Surgery and Pathology from 2013 to '16 and has been part-time clinical faculty since 2016.
"Ultimately, (faculty) are the ones that light the flames, allowing the students to carry on the torches for the profession," Brown said. "It is only fitting that students should choose who receives this award."
Gandy, a 1988 School of Dentistry graduate, enjoyed a 24-year career with Oral and Maxillofacial Surgery Associates. He's been a part-time clinical faculty member since 1994.
"It's one thing to get a salary and financial support for things you have to do in your work, but this award would encourage our faculty," Gandy said. "They can use this to advance their education, if they wish, and then turn around and give that expertise back to the school."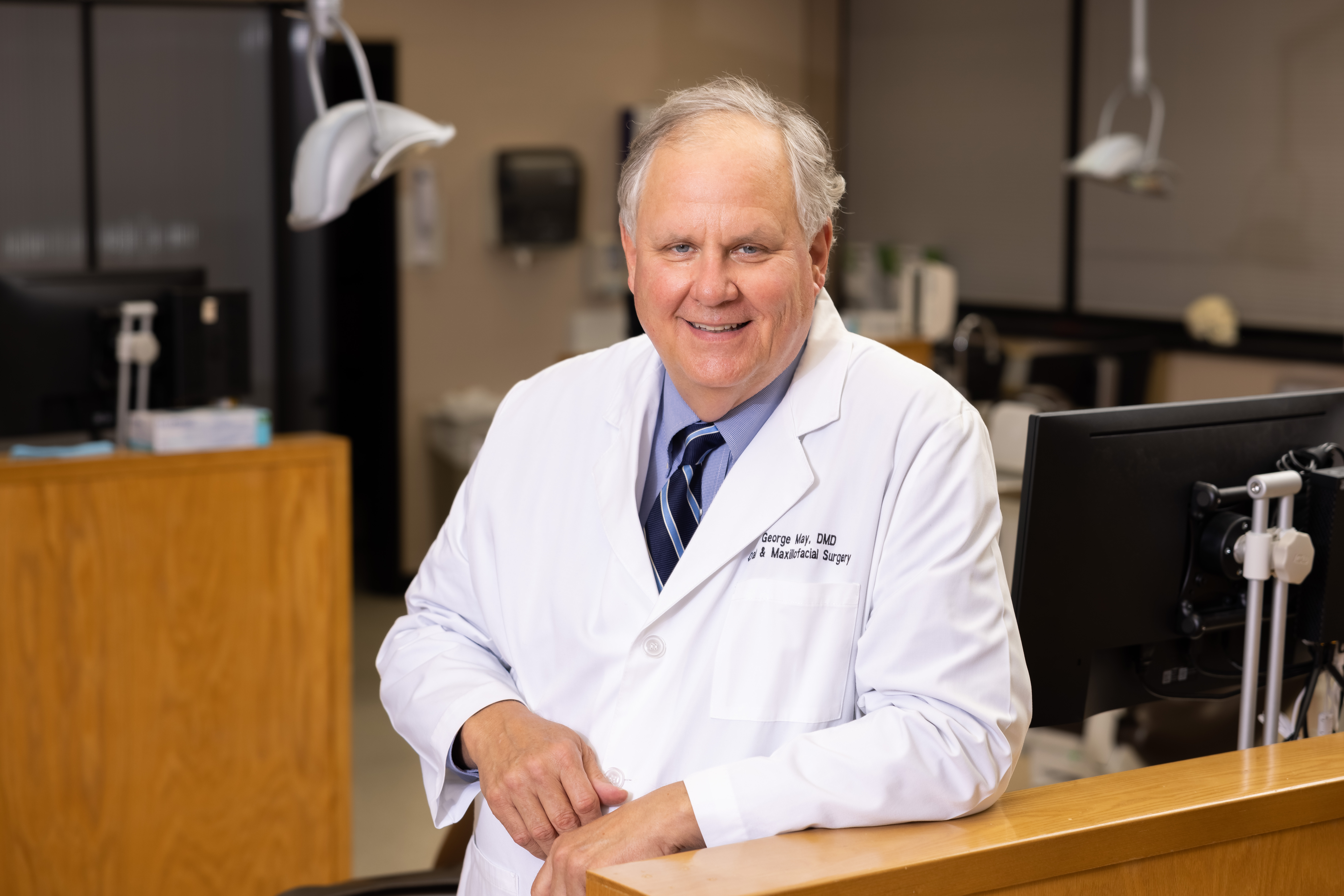 May, a 1986 graduate of the school, was in a private family practice before branching off 15 years ago to form George W. May Jr. DMD Oral and Maxillofacial Surgery in Flowood.
He hopes alumni and the state's dentists donate to the fund in hopes of retaining and recruiting stellar faculty.
"he teachers that work the hardest need to be encouraged," he said. "They are going out of their way to do more, and to make the experience and education at the dental school the best that it can be."
Quon has been a clinical faculty member in the Department of Oral-Maxillofacial Surgery and Pathology since 1984 and holds the rank of affiliated faculty professor. Since 1984, he has been in a solo private practice, Daniel Quon, D.M.D. Oral and Maxillofacial Surgery in Jackson.
"Being in the first class that started and that finished, I want to give back to the school," Quon said. "A faculty member can make you or break you. We felt like we wanted to recognize individuals who make a difference in students' lives."
For information on supporting the funds, go to https://umc.edu/dentistryfund.
To support the University of Mississippi Medical Center, visit http://www.umc.edu/givenow/ or contact Jane Harkins, planned giving officer, at 601-984-4468 or [email protected].